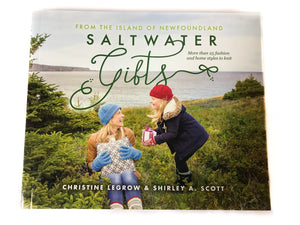 More than 25 Fashion and Home Styles to Knit
Saltwater Gifts is the latest book form the award winning duo of Christine LeGrow and Shirley A Scott.  Knitted gifts are treasured in Nfld, whatever the season. Designs unique to the storied island are made to keep loved ones warm. Hats, socks, mitts, trigger mitts, cushions, teas cozies even accessories for your dog.
Vivid photographs, and like the other Saltwater books include tips, tricks and stories. All patterns rated by difficulty and clearly presented for all levels of knitters.