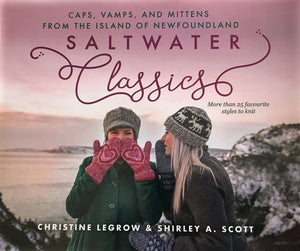 By Christine Legrow and Shirley A Scott  More than 25 favourite styles to knit.
A follow-up book to Saltwater Mittens with new designs for classic Newfoundland garments. From the top of your head to the tips of your toes one of a kind patterns for beautiful hand -knit caps, mittens, gloves, socks and vamps. 
The book touches on Newfoundland history and geography, weather and music and a love of home and family.
Saltwater Classics is bursting with more than 150  inspiring colour photos and dozens of tips, tricks and tales. All patterns are rated by difficulty.